FRUITS
In 1973, a Chino prison guard moved north with his wife and thirteen children to buy an old pear farm. They downsized from a seven-bedroom home to a three-bedroom farmhouse where seven girls shared one room, six boys piled into the other, all with the parents seeking a glimpse of solitude with their own (smaller) space.
The old pear orchard had to be picked and many of the trees torn out because of the pear blight — then came the replanting of thousands of trees over the years. The small workforce of thirteen kids often speculated that they were born just to take care of the orchard. "We had to wear these little picking aprons and measure the pears for packing with a pear ring," remembers Connie, one of the middle-children, "We were all scared of the ladders."
Since then, the Hoover family has grown their Orchard from 50 to 72 acres, transforming it from a pear-blighted seasonal crop to a diverse selection of fruit that is harvested year-round.
"We start off with cherries, blueberries, boysenberries and raspberries in June," lists Chris Hoover, orchard manager, "then the peaches, plums, Asian pears and nectarines come next. Following are the pears and apples ripening and finally we have mandarins, navel oranges, lemons, grapefruit, pummelo, tangerines, blood oranges and tangelos through the winter."
August, however, is the orchard's most (cough) fruitful season — a month the Hoover clan deems Harvest Daze. This is the season when the most fruit is ripe for the picking; including peaches, nectarines, plums, pluots, apples, Asian pears and berries. "Everyone is in a daze trying to get everything picked, sorted, and off to market," says Chris Hoover, orchard manager.
One of the most successful additions to the orchard was Asian pears. "We were the first in El Dorado County to grow Asian pears," states Barbara Hoover, family matriarch. "And we are still the biggest producer of Asian pears in the county," adds Chris.
When the fruits aren't shipped off to markets, they're available at their home on the Orchard. The Bake Shop is open seven days a week — housing crates of all the available fruits and featuring a sweet array of treats to boot. Pies, jams and jellies glaze the shelves, along with fresh coffee and ice cream to top your piece of pie or to pile on fresh fruit toppings. The pie fillings come from Hooverville's fruit, but the pie crusts come from Barbara Hoover's recipe. At 93, the matriarch of the family is as feisty as ever. "We were all rowdy," says Connie, "but Mom was the ringleader."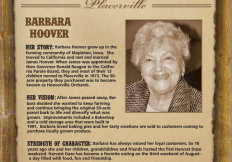 As the name suggests, Hooverville is truly a family-run operation. Connie, number five of thirteen, makes all the incredible flavors of jams and jellies, along with managing the Bake Shop.
Chris, sibling number six, manages the fruit operation to fill demand in the bake shop and all across California at farmer's markets — held in Placerville, Sacramento, El Dorado Hills, Elk Grove, Lake Tahoe and San Francisco. Sick of farming, Chris planned to go into law enforcement. He joined the Army to escape the family business but, when his father, Jim, had a heart attack in 1979 and contemplated selling the Orchard, Chris decided to come home and help out. He's been managing the Orchard since 1980 and every year he has added new fruit and new varieties to keep up with a changing market and to extend his fruit harvest throughout the year. Rachel, number seven of thirteen, just recently fulfilled a lifelong dream of keeping the farm in the family by purchasing it from her mother. It's a sort of rite of passage in the family — now including upwards of over fifty grandchildren/great grandchildren – and growing, to rapidly call off all the family members in order of oldest to youngest: Pamela, Michael, Pat, Cindy, Connie, Chris, Rachel, Robbie, Dorothy, George, Susan, Barbara, and John.
FARM
When Hooverville Orchards first started, the Hoovers took their fruit to the Placerville Fruit Growers Association for packing and shipping, like most other growers in the county.
"But we were only making 5-7 cents a pound that way, so we looked for a way to sell directly to the consumer like Apple Hill," says Chris. "We were too far away from the Apple Hill growers to be part of them and we couldn't put signs up on a state highway to let people know where we were, so we got together with about 10 growers from this area and formed the El Dorado Farm Trails. Now the Farm Trails has expanded to include the whole county and it helps all the farms to get the word out."
Hoover was instrumental in getting the El Dorado County Right to Farm Ordinance passed, expanding the agricultural rights of farmers and allowing for noise, dust and chemical sprays related to agriculture.
This year, Hoover hopes in having huge, beautiful fruit unmarked by hail or freezes. "We are in what's called the banana belt here — we're in the warmest site in the county," said Hoover. "The winds are warm and we have hot days and cool nights." This combination makes all El Dorado County fruit higher in sugar content and firmer in texture than valley grown fruit and Hoover says people are willing to pay premium prices for mountain grown fruit.